The Dispensing Suite
A Registered Dispensing Optician is highly trained professional (3 years at college) who dispenses and fits spectacles and other optical aids, working from the prescriptions written by Optometrists and Ophthalmologists. However, at N F Burnett Hodd this is not all we are trained in. We pride ourselves in providing a unique and personable experience, which we hope you will enjoy rather than dread!
The Dispensing Suite is run by Practice Manager; Yvonne Sander BSc. F.B.D.O. Yvonne has worked at the practice for over 4 years now and joined us from her fathers practice in Kent. Working alongside Yvonne is Daun Cuthbertson. Daun joined the practice 2 years ago after moving to London from Newcastle. At N F Burnett Hodd we do not believe in pressuring patients into quick decisions, multi sales, or products they do not require. Our belief is in providing the kind of service that is not available readily elsewhere, and to mirror the bespoke service you receive from our expert Optometrists.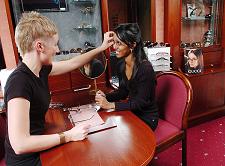 The Dispensing Suite
We start the dispensing experience by having a discussion about you and what you would like or need in your new spectacles. Following this the dispensers select a range of spectacle frames for you to try. Our dispensing suite is slightly different from most practices in that it only displays a few frames and sunglasses. The majority of our stylish frame collections are stored in drawers. This removes the possibility of bombarding you with hundreds of unsuitable frames all looking the same! The beauty of our practice is that your time with the dispensers is unlimited! You can spend as long as you want choosing your new look and ask us as many practical questions as you would like about them!
Our dispensers are not bound to using one manufacturer of spectacle lens either and are therefore able to provide the best lens design by the appropriate manufacturer for you as an individual. For example, do you mainly spend time on your computer? Would the addition of an occupational lens be of more benefit to you? Do you spend a lot of time abroad? Would reactalite or polarised prescription lenses help? What are your hobbies? Do you play a lot of contact sports? Do you need prescription goggles?
Recently there have been some major breakthroughs in the world of Varifocal designs - the most noticeable being the tailor made varifocal. These designs, produced by a few of the main manufacturers such as Zeiss and Hoya are completely computer generated to both suit your eye sight requirements and to fit your frame. They provide the most natural, distortion free vision of any varifocal design and are very popular with patients who have tried them.
When it comes to fashion we currently stock a wide range of Designer Ophthalmic frames and Sunglasses. We are able to make many of our Sunglasses into prescription sunglasses as well. Some of the brands we stock are:
Tom Ford
Bvlgari
Prada
Gucci
Face a Face
La Font
William Morris and Mexx
Silhouette
Cartier
Maui Jim
Oakley
Lindberg
We are one of 7 exclusive practices in London that stock the Precious Metal range of rimless Lindberg frames. This includes frames made of white, yellow and rose solid 18k gold, all available with or without diamonds. Lindberg are more famously known for their titanium rimless range, of which we have an extensive selection of also.
We also provide a lot of frames at a more reasonable price range, catering for spares pairs or predominantly contact lens wearers. Although these ranges are more reasonable they do not lack on quality.