The Burnett Hodd Eye Examination Experience
We pride ourselves on providing the most thorough and complete eye examination possible, and we will always aim not to meet, but to exceed your expectations. No two patients have the same eyes or the same problems, and therefore our eye examination is tailor-made to suit the individual. Everybody is special.
However the following will give you a general idea of what will happen in your eye examination.
The first thing we do is take a thorough history and symptoms- we will ask you about your history of spectacle wear, the reason for your visit, and any problems you are currently having with your glasses and/or contact lenses. We will also ask about your general health, any medications you are taking (as some systemic conditions and medications can affect your eyes), whether you have a history of eye problems, and whether there is a history of eye conditions in your family. We are also interested in your working environment and any hobbies you have, to help us find the visual correction that works best for you.
Your current spectacles (if you have them) will be measured, and we will assess what you are able to see through them.
Tests to assess the muscles of your eyes and the balance between the two eyes will be conducted, including convergence testing, as well as examination of your pupils reactions where necessary.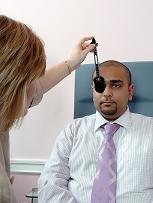 Assessment of eye muscles
We will then check your spectacle refraction, i.e. a measurement of the power of the lenses you need to be able to see the most clearly and comfortably at both distance and near viewing.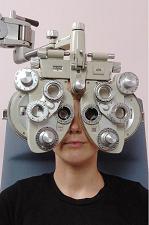 The Phoropter is used to measure your prescription
Next we will have a thorough look at the health of your eyes, both front (eyelids and lashes, sclera and conjunctiva, cornea, iris and lens) and back (vitreous, retina, optic nerve head, macula and retinal blood vessels).
"In addition to this, photographs will be taken of the central 45 of your retina. This allows us to monitor important changes that take place over the years.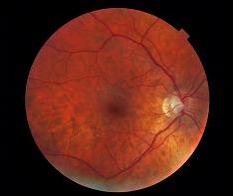 Fundus Photography
If you are over the age of 40, have a family history of eye disease such as glaucoma, or have certain symptoms, these extra tests may also be carried out:
Intraocular pressures (the 'puff of air' test) Heidelberg Retinal Tomography (HRT) which analyses the optic nerve head for signs of glaucoma Visual field screening, which can detect blind spots caused by glaucoma or other neurological defects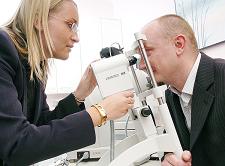 The Heidelberg Retinal Tomograph
All the tests included in a normal eye examination are now done! We will go over all the results with you and discuss the best course of action, whether that may be, new spectacles, monitoring an eye condition, or just reassuring you that your eyes are healthy and when we hope to see you for your next visit!
We may suggest that you take some of the extra tests in the Extended Eye Exam if we feel there is a need.
If you need new spectacles or just fancy a 'new look', our Dispensing Opticians Yvonne and Daun are on hand to guide you through the process of choosing a frame that makes you look and feel great, and deciding on the best kind of lenses for you.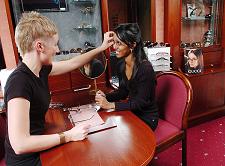 The Dispensing Suite