News Items from 2009
Happy Holiday Season!
All of us at N F Burnett Hodd wish you Happy Holidays and a Happy New Year
To celebrate we have some special offers online for the New Year
Contact Lens News
We are now able to offer Johnson & Johnson's new daily disposable lens, 1-Day Acuvue Trueyes over a wider range with 2 fittings (powers available: +6.00 to -12.00). This silicon hydrogel lens boasts 4 times more oxygen transmission than say Acuvue Moist so giving the wearer extra comfort and longer wearing times with the convenience of daily disposability. Johnson & Johnson have also added to their Acuvue Oasys range with their Oasys Toric lens. The TruEye lens has 100% UVA and UVB protection - the most comprehensive protection against radiation of any contact lenses.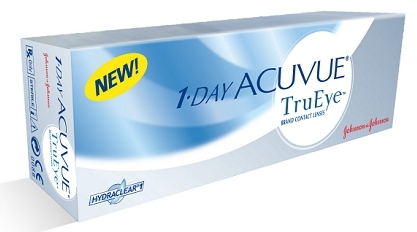 Coopervision have introduced silicon contact lens for those who are astigmatic too, the Biofinity Toric contact lens. This is a monthly lens that can be worn overnight where suitable. The range of powers available is greater than the Acuvue Oasys, correcting astigmatism up to -2.25D in 10 degree steps and powers +8.00 to -10.00.
Meanwhile - a British company called Sauflon has become only the second manufacturer to produce a 1-day silicon hydrogel lens called CLARITI 1-day. Initial results are very good. The lens has a higher water content than the TruEye and is slightly more mobile on the eye when first fitted. This gives us fitters a different style of fit, more like we used to use in the past. We have always felt that lens movement encourages tear exchange behind the lens so that the eyes feel less dry as the day goes on.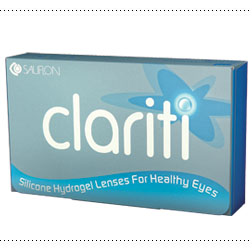 Patients with high degrees of astigmatism, who have problems with the expense and fragility of longer use lenses will be interested in the latest offering from Spanish company, Ennovy. They have a custom-made monthly disposable soft lens called SAPHIR which currently goes up to -8.00D of astigmatism! We are trying them with enthusiasm as the lenses are 100% reproducible.
There is exciting news on the presbyopia front too. The UK innovator, John de Carle, who introduced the first UK extended wear lens called Permalens back in 1970 has been working on a new Multifocal/Bifocal lens using 32 concentric rings. He holds the patent on J&J's popular bifocal lens, which has 9 rings and has now expanded the concept as manufacturing capabilities have advanced. Mr Burnett Hodd is currently trialling these lenses, manufactured by Ultravision, with early success.
At the same time, Sophie's specialist lenses for distorted eyes - namely Synergeyes and SoClear (see Specialist lenses) are also suitable for normal eyes and come in a bifocal version with a central reading portion. Again - when they work they work well as the lenses don't move on the eye.
People with advanced keratoconus, pellucid marginal degeneration, post surgery ectasia or very distorted corneas may benefit from the new Synergeyes Clear Kone lens. The lens is designed to vault the cornea differently from the previous design thus increasing our success rate in difficult cases.

New Products
Over the past 12 months there has been a lot of media coverage concerning contact lens cleaning solutions. In light of many issues, we have streamlined our range of solutions so that people don t muddle them up.
Our two favoured soft lens solutions are Renu and Regard. Renu comes in two concentrations and we will advise which you should use:
Renu MPS, is great for sensitive eyes and is suitable for all soft contact lenses. It has less chemicals than Renu Multipurpose. Renu Multipurpose contains special surfactants and protein removers so is geared for soft contact lens wearers who suffer from protein build up, giving a better cleaning quality and comfort. It is particularly used for lenses used longer than one month. The Renu bottle is transparent so you can see when the product is running low, so you'll never be caught short! Renu also comes in a convenient travel size.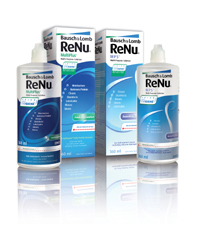 Regard is a completely non-preserved solution in a bottle! It loses its preservative as soon as it leaves the bottle yet it sterilises the lenses like peroxide.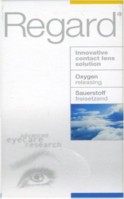 Those of you who can't take any risks at all can still have the Oxysept 1-step system and if you preferred 2-steps we have an alternative product called Novoxy 1&2.
Regard K is a new product on our shelf, another preservative free solution for RGP contact lenses. Good news for those who suffer intolerances to added preservatives. Since we started recommending Regard RGP we have not had any adverse reactions from RGP's!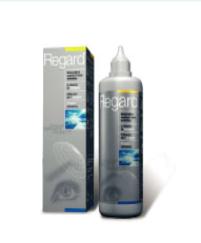 New Equipment
Once again we have been buying new equipment and upgrading what we have to cutting edge technology.
New OCT as part of the normal Eye Examinaton
The OCT central retinal scanner introduced two years ago to measure changes to the macula or optic nerve region of the posterior eye is being replaced with the latest version that has extra features that allow it to also look at the front part of the eye.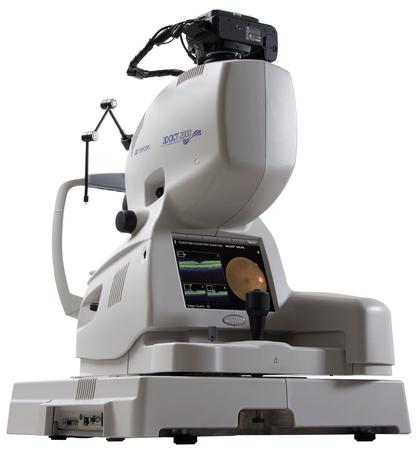 This fantastic piece of equipment can now perform an OCT in 0.4 seconds and take a fundus photo at the same time. OCT or Ocular Coherence Tomography uses a laser to scan the retina and build a 3D image of its different layers. OCT can pick up problems with the retina of the eye that are undetectable with fundus photography such as traction on the retina from the vitreous jelly, haemorrhages in the deeper layer of the retina and Age Related Macular Degeneration.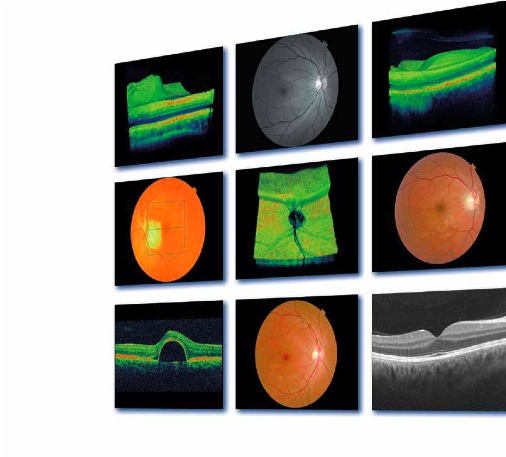 The new OCT can also analyse the nerve fibre layer near to optic disc and help in the diagnosis of glaucoma.
In addition the new TopCon OCT 2000 allows us to take an OCT of the cornea of the eye for the first time. This will allow us to measure the thickness of the cornea and also to look at the angle of the anterior chamber. Narrowing of this angle is a precursor to developing glaucoma and measurement of this angle has become an important indicator when referring a patient to a glaucoma specialist. We are very excited about this development.
OCT of the cornea can also pick up infections and help judge the depth of any abrasions. It can also help diagnose conditions such as keratoconus. In the future we will be able to take an OCT of contact lenses on the eye which will assist in the fitting process.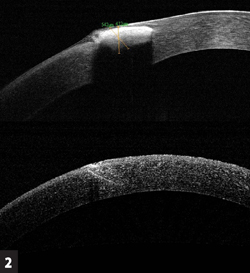 An OCT of the cornea showing a foreign body
Currently - this test is charged as a 75 pound extra test and as a result we have only been selectively using it. However - we can now anounce that it is to replace the normal "fundus" photograph machine that we currently use and become the standard test for all of our patients at NO EXTRA CHARGE.
Mr Hodd has a new Puffer!
Mr Burnett Hodd has a new toy in his room to replace the old puffer! The new machine still puffs but it also measures the corneal curves, your basic prescription, your corneal thicknesses and the distance between your eyes!
New camera and automated refractor head in Sophie's room
In Sophie's room she has the latest photographic slit lamp to photograph your contact lenses. She also has the latest "Automatic Refraction Head". This is a machine that 'tests' your eyes by twirling lenses in front of you, but in this case, unlike the old machine, it is all controlled by a keyboard and is linked into the test chart to co-ordinate the tests with your responses. Very clever - far too advanced for Mr Burnett Hodd! But Sophie and Caroline love it!
New Optos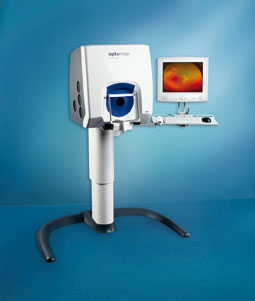 This year we have received the new improved Optos Machine which allows us to look right out into the periphery of the retina, where retinal detachments often occur with it we have detected two retinal detachments that could not be seen with standard optometric methods and where the patients had no symptoms.
Short sighted eyes are more at risk of retinal detachments as the retina is often quite stretched, whilst the over 60's are also at risk of Posterior Vitreous Detachments this is where the jelly in the eye pulls detaches from the retina. When this happens there is a risk of a retinal detachment. Therefore the short sighted and over sixties may benefit from an Optos examination. If you have symptoms of flashing lights and floaters you should book an urgent appointment with us or if that is not possible attend your local eye casualty.
Staff News
Dr Caroline Hodd, Mr Burnett Hodd's daughter, joined the practice in July as a fully qualified Optometrist. Caroline has a PhD in Physics; she also has a Masters in Neuroscience. After writing computer programs for banks and teaching Maths and Science she has finally become the 4th generation Burnett Hodd Optometrist at the practice.
Mr Nigel Burnett Hodd, as president of the International Society of Contact Lens Specialists has recently been in Boston, running a very successful five-day conference on contact lens issues, in spite of the recession. Hot topics included: stem cell technology to re-grow damaged retinas in cases of retinal damage and the latest ways to correct for the problems of presbyopia
Ms Sophie Taylor-West has become one of the country's leading experts in fitting specialist lenses for cornaas that are distorted - such as after laser surgery, grafting, keratoconus or just high amounts of astigmatism. Sophie has also been working one day per week with No7 Contact Lens Laboratories sharing her expertise in contact lens fitting and problem solving strategies and further development of the SoClear and Synergeyes lenses - see Specialist Contact lenses on the website.
Our Dispensers
For those who haven't visited the practice for the past 5 months, may not be aware but Miss Yvonne Sander, our Practice Manager and Dispensing Optician is soon to expect the arrival of tiny feet! Her baby, due at Christmas, is her first; we all wish her well in motherhood.
During Yvonne's maternity leave, we are being joined by Jovi Mendoza Gonzalez. Jovi has recently moved up from the lovely town of Bath to join the hectic life that London has to offer. He will assist Daun who has nearly 8 years experience in the dispensing field, starting her career at Querido and Davidson's Practice in Newcastle upon Tyne (not Wales, Scotland or Ireland!!), arriving at N F Burnett Hodd almost 4 years ago.Whilst we expect Yvonne back next Autumn we hope that the practice will expand enough for Jovi to become a full-time member of our experienced dispensing team.
Our Technicians
Jason passed his first year exams in Law at Birkbeck and will be moving into the second year in September. Richard's Maths degree at the Open University is also going well. Matthew is moving into the third year of his Optometry degree at City University. He is on schedule for a first class degree and has been accepted at Moorfields Eye Hospital for his pre-registration year. During this summer he completed a summer project at the practice on Dry Eyes for the British Contact Lens Association, he recently presented his results to the BCLA pioneers conference.
Mr David Raz-Rhodes
Mr Raz-Rhodes has retired from the practice. We wish him a very happy retirement!
Dispensing news
Technology in spectacle lenses has come a long way over the past 12 months. The introduction of Hoya's freeform technology has enable Hoya lens to produce a completely individually tailored varifocal. This basically means that this progressive powered lens, the Hoyalux ID Mystyle, allows the individual to see every working distance with minimal distortions. The feedback has been amazing with many wearers feeling as though their varifocals are simply single vision spectacles! Mr Burnett Hodd is so delighted with his that he recommends them to everybody! As with all of our varifocal lenses, we are pleased to be able to offer a non-tolerance warranty, giving you peace of mind that if they don't work out - you won't be left out of pocket.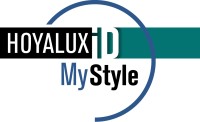 Essilor have introduced a brand new coating for their spectacle lenses, the Crizal Forte with Scotchgard. This fantastic multi-coat is like no other, not only do you get reduced reflections and more grease repelling properties but Essilor are so confident that this lens will not scratch, that they are offering a 2 year, no quibble warranty. Brilliant news for those of us who are maybe a little more heavy handed with their spectacles!
Our selection of ophthalmic frames is constantly being updated. We are still one of the few practices in London to exclusively stock the Lindberg Precious Metal range. Solid 18-carat gold and platinum frames available with properly farmed buffalo horn, diamonds or simply solid gold. Lindberg frames are handmade and individually crafted to fit the wearers face. Diamonds are of the highest quality of top Wesselton WS diamonds, known for their clarity and beautiful colour. Check out their collection at www.lindberg.com
Our latest addition to the fashion sunglass range is DSquared. Launched in September 2009 by Canadian twins Dean & Dan Caten, this high fashion, lifestyle range offers style with the quality of Italian workmanship.
Face a Face Eyewear are now part of our collection. Designed in Paris using themes of architecture, international fashion and contemporary design, Face a Face have bought us fun and colourful designs with unbelievable comfort. All frames are hand made, hand polished and a beautiful work of art! Visit their website www.faceaface-paris.com. These frames sell as quickly as we can get them so we are always restocking with their latest styles.
Remember - when you buy spectacles at N F Burnett Hodd it should be a wonderful one-on-one experience. We have our collections in drawers so that we can control which you choose as to its suitability for your visual requirements. All spectacles are hand crafted for you and we take pride in either using the best prescription laboratories in the UK, or Daun and Jovi glazing the spectacles in our own in-house laboratory in the basement. It's just a little bit different than the usual High Street, supermarket or on-line experience being peddled in the media!